Are you looking for a comprehensive CRM Solution?
Implement the most trusted CRM for sales and marketing.
Do you feel exhausted from the constant struggle to entice customers? With HubSpot, you can automate your lead generation, manage customer relationships, and measure your marketing ROI.
You can look no further than HubSpot to change how you attract customers. As pioneers of inbound marketing, HubSpot understands the importance of building authentic relationships with your audience.
Discover the tool countless B2B owners, sales managers, and admins have leveraged to transform their marketing strategies. HubSpot lets you streamline your sales process, effectively nurture leads, and close deals faster. With personalized content and powerful analytics, HubSpot takes your sales and marketing efforts to new heights.
Imagine having access to a range of services that supercharge your marketing strategy. Our platform encompasses content management, lead generation, CRM integration, and workflow automation.
Take charge of your sales process today by harnessing the power of HubSpot. Streamline your operations, effectively nurture leads through targeted content personalization, and gain valuable insights through our robust analytics.
Don't wait any longer – join thousands of successful businesses that have already experienced remarkable growth with HubSpot. Schedule a discovery call today to see how this world-class CRM could perfectly fit your company.
HubSpot coined the term inbound marketing. However, simply labeling a tool as an inbound marketing tool lacks significance unless one comprehends the concept of inbound marketing.
So, let's begin with that: inbound marketing is when you don't actively pursue clients or customers—they instead seek you out. HubSpot's software embodies this concept through its extensive range of features. To give you an overview of their impressive breadth, here's a brief rundown of what HubSpot provides:
Managing content
Forms to generate leads
Tools to manage leads (CRM, scoring leads, automated workflows)
Optimizing search engines (through producing targeted content)
Real-time chat
Analyzing website data
Ticketing system for customer support
What is HubSpot?
HubSpot is famous for its CRM and marketing tools but offers specialized tools for various purposes. HubSpot is a well-liked CRM platform that assists businesses with sales, marketing, and customer service. It has tools to manage customer relationships, automate marketing, track sales, and provide customer support.
People know HubSpot for its user-friendly interface, extensive integrations, and comprehensive reporting capabilities. Businesses of all sizes use it to improve customer interactions and streamline marketing and sales processes.
Marketing
Sales
Customer service
Customer relationship management (CRM)
Content management (CMS)
Operations
Marketing Hub unifies all your marketing resources and data in a single location.
Numerous marketers are facing a disconnection dilemma. The constantly changing channels make it difficult to connect with customers. Keeping all your marketing campaigns and data in one place prevents confusion and allows your team to see everything clearly. It gives you a complete overview in one spot.
Silos create difficulties in team collaboration. Data integration can be difficult if systems conflict, but solutions exist to overcome this issue.
Marketing Hub is an integrated solution for marketing. It consolidates your tools and experiences to unify your teams, all within a platform that synchronizes your data. These connections facilitate stronger relationships with your customers and improved outcomes.
Instruments that help you engage your audience at the right time and location.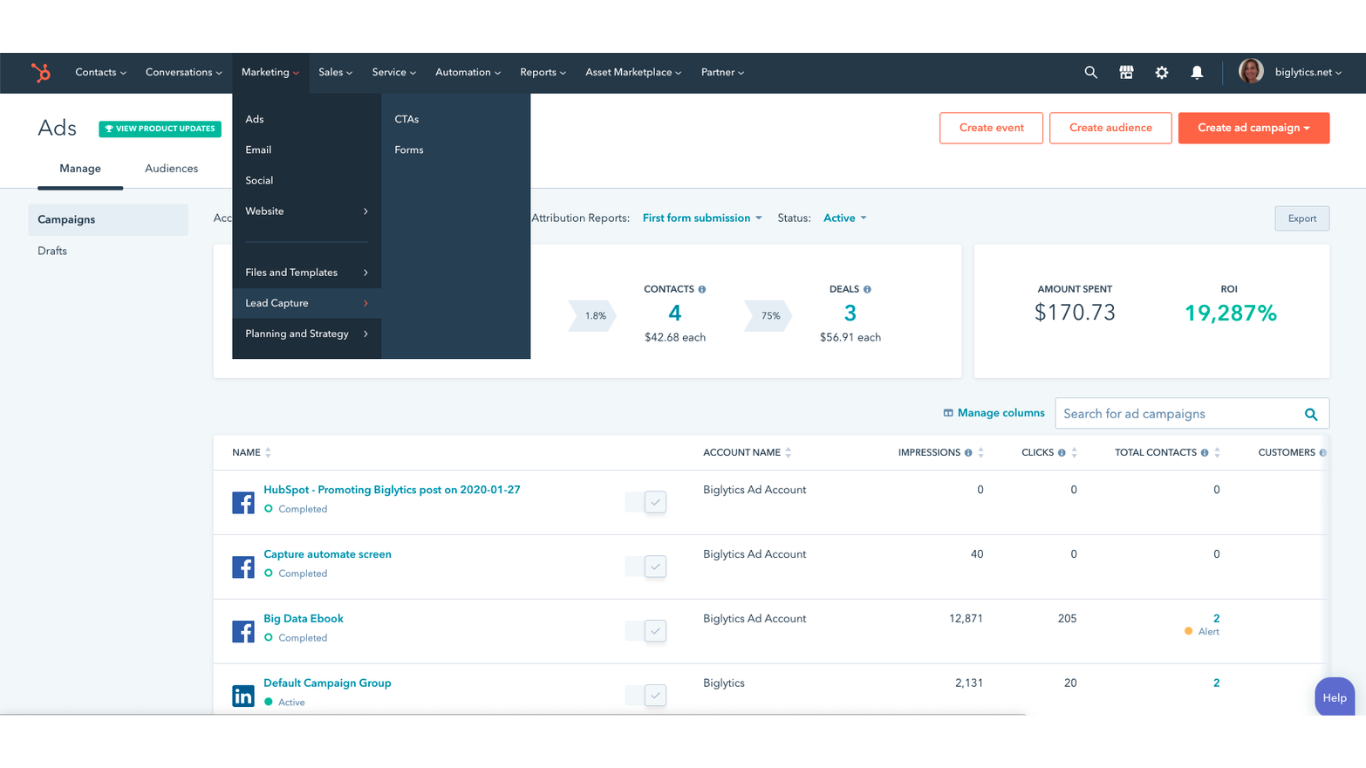 The main characteristics include creating forms, providing chat support, and effortlessly syncing data with Salesforce.
Sales Hub
combines all your marketing tools and information in a single location. Designed to enhance efficiency, driven by relevancy.
The traditional "do more, sell more" strategy is no longer successful. Adding more salespeople, requiring more tasks, and implementing more technology no longer ensures productivity. Stagnation has hindered growth, demoralized teams, impeded representatives from engaging with customers, and limited leaders from expanding consistently.
Sales Hub enables sales teams to prioritize quality instead of quantity. It equips them with the means to be efficient and establish better customer connections. Additionally, it provides sales leaders with the knowledge to scale smartly.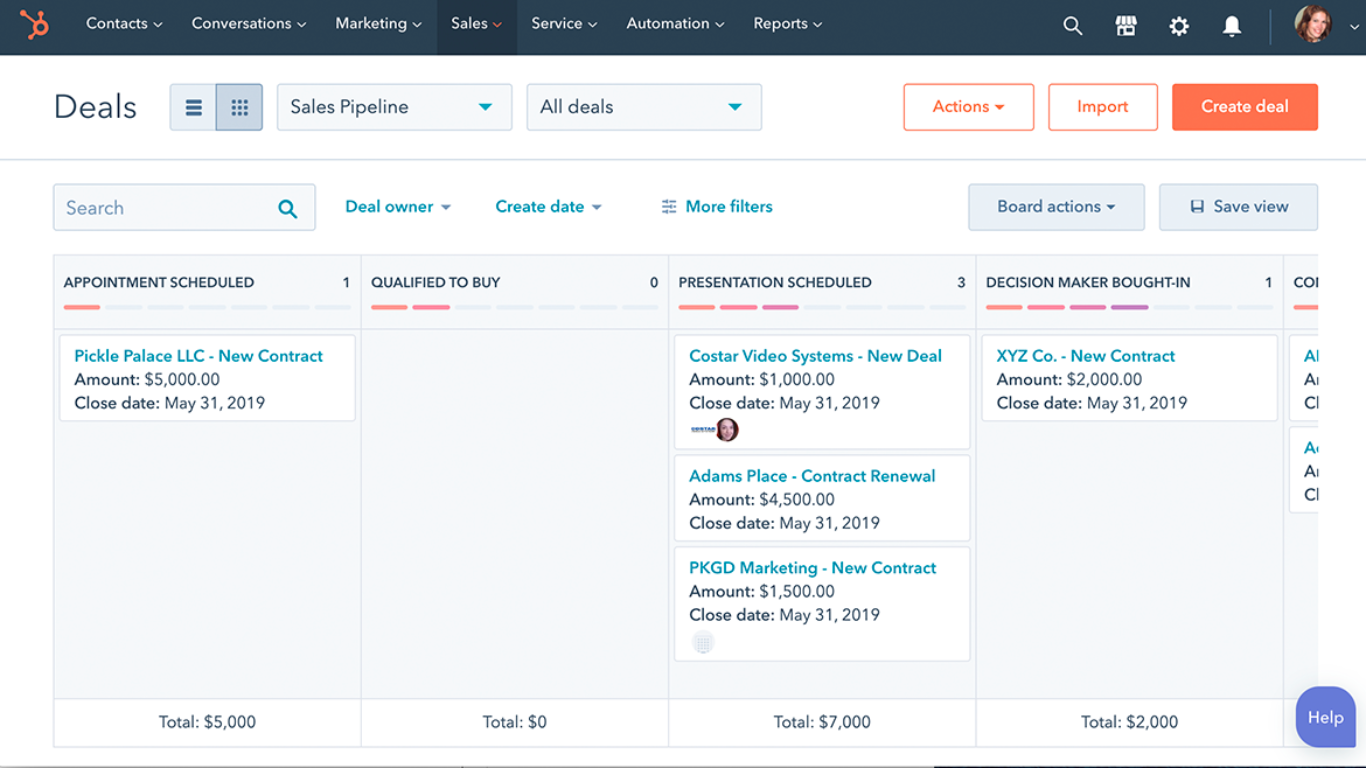 Popular features include lead management and prospecting, email templates, email tracking, sales automation, call tracking, and HubSpot AI.
Service Hub
Today, customers expect resolutions in minutes and personalized, 24/7 service through flexible channels. Customer service reps need help to meet demands because of scattered tools and data across multiple sources.
Service Hub consolidates your customer service information and communication channels into a single platform. This makes it easy for you to assist your customers, retain them, and grow your customer base. The result is Improved management of customer service and happy customers at every step of the journey.
Identify opportunities to deliver service with originality.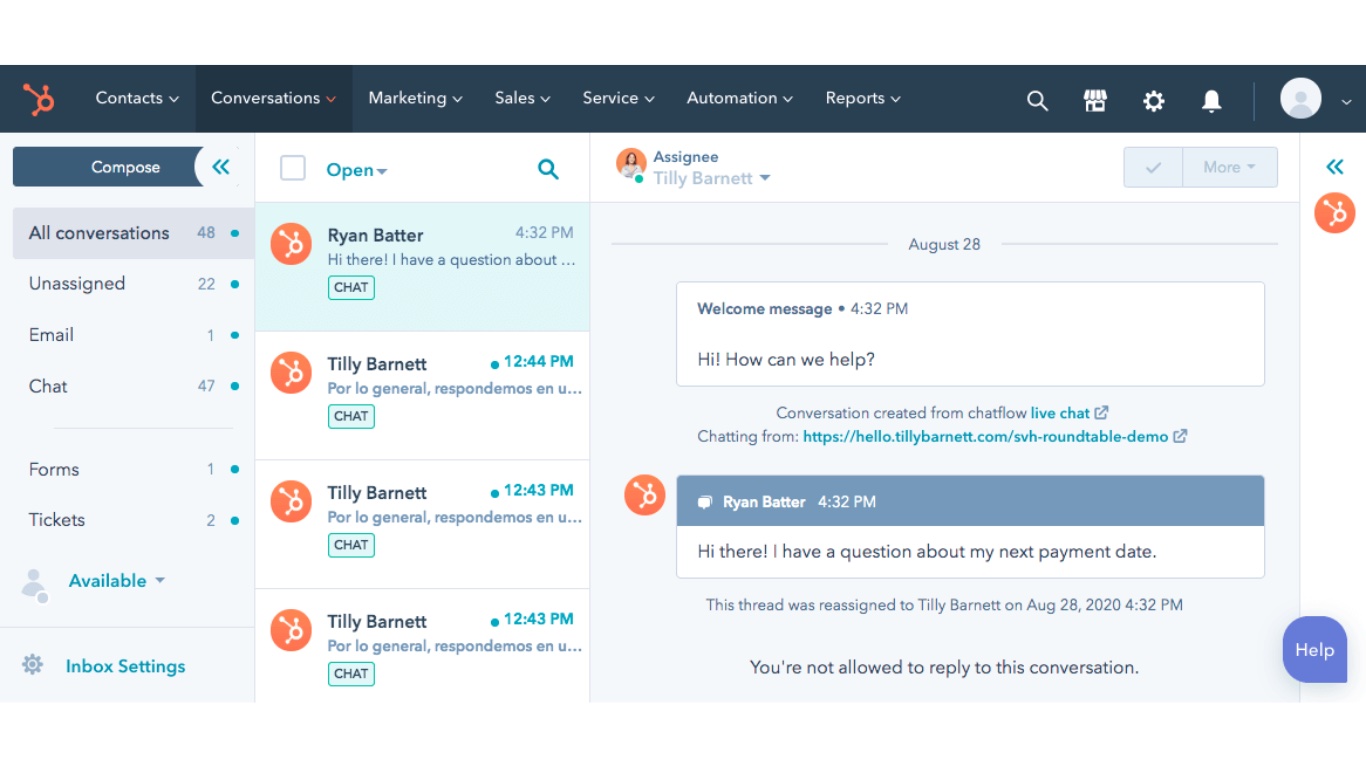 HubSpot provides various features and capabilities as part of its hubs, including forms, chat support, data syncing with Salesforce, lead management and prospecting, email templates, email tracking, sales automation, call tracking, and HubSpot AI. The platform is known for its user-friendly interface, extensive integrations, and comprehensive reporting capabilities.
If you would like more specific information about HubSpot's pricing for 2023, you can take a look at the comprehensive HubSpot pricing guide on Forbes. You can find a comprehensive 2023 HubSpot pricing guide on Forbes.
Frequently Asked Questions
We hope these FAQs and their answers will be helpful in providing useful information for your business.
What is a CRM System?
A CRM (Customer Relationship Management) system is a software platform that helps businesses manage customer interactions and relationships. It enables companies to track customer data, communicate effectively, and streamline sales and marketing processes.
Why should my business use a CRM system?
CRM systems provide numerous benefits, such as centralizing customer data, improving communication, increasing sales efficiency, and enhancing marketing efforts. You can deliver personalized experiences and make data-driven decisions by having a comprehensive view of your customers.
What features does HubSpot CRM offer?
HubSpot CRM offers a range of features to help you manage customer relationships effectively. These include contact management, deal tracking, email integration, task management, sales analytics, and reporting. It also integrates seamlessly with other HubSpot tools like marketing automation and customer service.
Is HubSpot CRM suitable for small businesses?
Yes, HubSpot CRM is a great option for small businesses. It offers a free version that provides essential CRM functionality, making it accessible for businesses with limited budgets. As your business grows, you can upgrade to their paid plans for additional features and scalability.
Can I integrate HubSpot CRM with other business tools?
Absolutely! HubSpot CRM offers integrations with popular business tools like email marketing platforms, customer support software, and e-commerce platforms. These integrations allow you to streamline your processes and maintain a cohesive workflow across your tech stack.
Is HubSpot CRM secure and reliable?
HubSpot CRM takes data security seriously. They adhere to industry-leading security standards, including data encryption, regular backups, and access controls. Moreover, HubSpot has a reliable infrastructure that ensures high uptime and minimal downtime for your CRM operations.